ARTeMIS Newsletter – March 2020

Webinars in 2020
In 2020 we have a series of webinars about ARTeMIS Modal. All webinars are free of charge and only require that you register before start. They typically last for one hour and covers a specific topic. Next up is Operational Modal Analysis using ARTeMIS.
New Version of ARTeMIS Modal
We have released ARTeMIS Modal version 6.1.0.8. This version has many enhancements that will be presented below. If you like a free trial of ARTeMIS Modal please go to www.svibs.com/Download. If you already is a customer please log into your account at portal.svibs.com.  
More Computational Speed

In this version the processing speed has been optimized in different ways. By default, the mathematical processing can use more computational threads. In addition, on computers with enough memory some operations that before were made in steps now complete in a single step. It is therefore highly recommended to have at least 16 GB of memory available. Specifically, the improvements can be experienced in the following parts of ARTeMIS Modal:

Signal Processing. General Data Processing, Spectral Density estimation and initialization of Stochastic Subspace Identification.
Storing of measurements using the Data Acquisition modules used for Operational Modal Analysis.
Classic and Robust Damage Detection.
More Flexible Damage Detection

The two damage detection techniques in ARTeMIS Modal has been made more flexible. First, it is no longer needed to use same settings for the two methods. Secondly, the detection has now been divided into three steps. These are:

Create Reference State Model. Only process measurements of the analysis sessions assigned as references.
Validate Reference. Select some analysis sessions that still are believed to be in a reference state and validate that damage indicators still are in a reference state.
Damage Detection. Select analysis sessions that should be tested for damage.
For projects used for continuous health monitoring, the two first steps must be completed before the damage detection can be put in an automatic detection mode. Please watch our webinar about Structural Health Monitoring on May 6, where this will be demonstrated.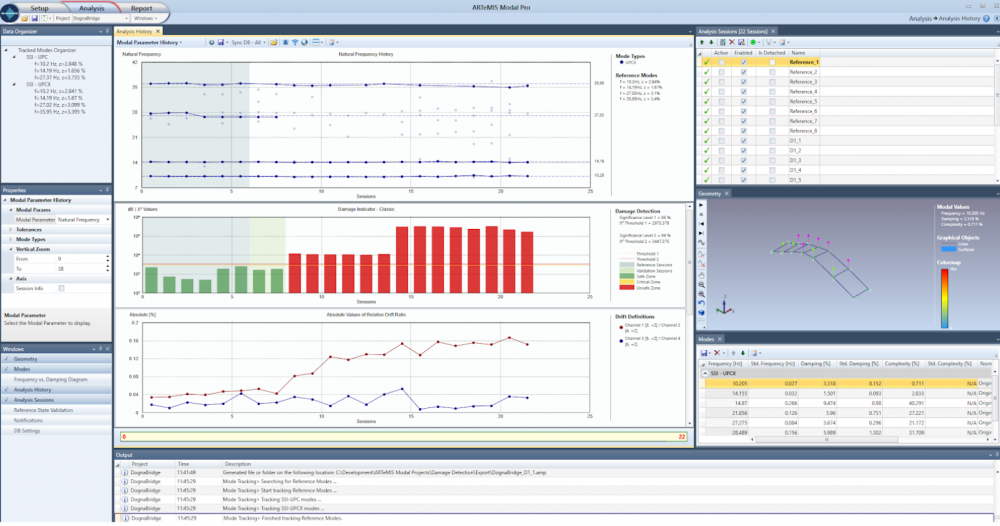 The Analysis History Task of ARTeMIS Modal Pro. Modal Parameter History, Classic Damage Detection and Interstorey Drift Analysis. The SHM plugins will be presented on the Structural Health Monitoring webinar on May 6, 2020